The deadline has been extended to January 10th!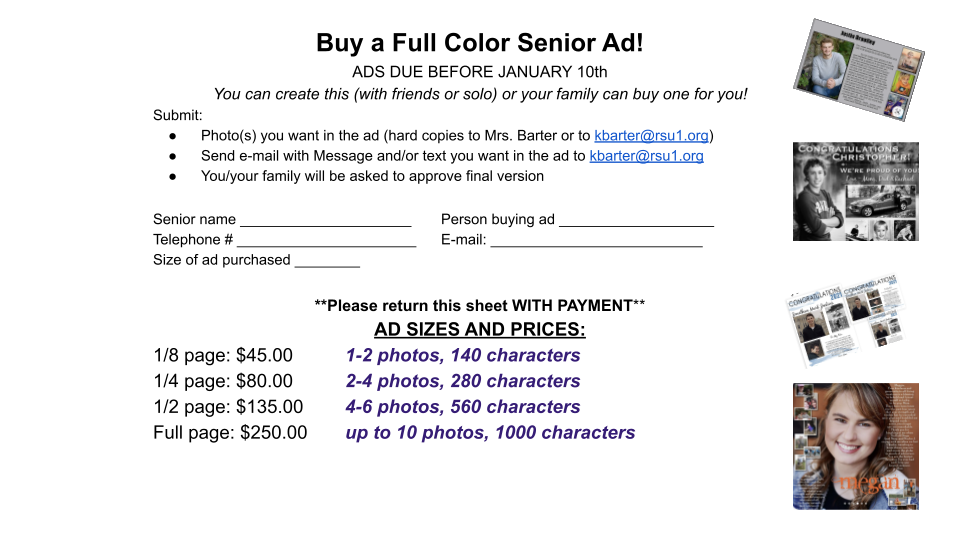 📣 LAST CALL FOR LOST & FOUND ITEMS 📣 ➡️ Jackets ➡️ Sweatshirts ➡️ Hats ➡️ Gloves ➡️ Pants ➡️ T-shirts ➡️ Shoes ➡️ Lunch boxes ➡️ Water bottles ➡️ Blankets ➡️ Skateboard ➡️ Bags...Swing by the main lobby and take a look! All items still in our lobby after December 22 will be donated. ♻️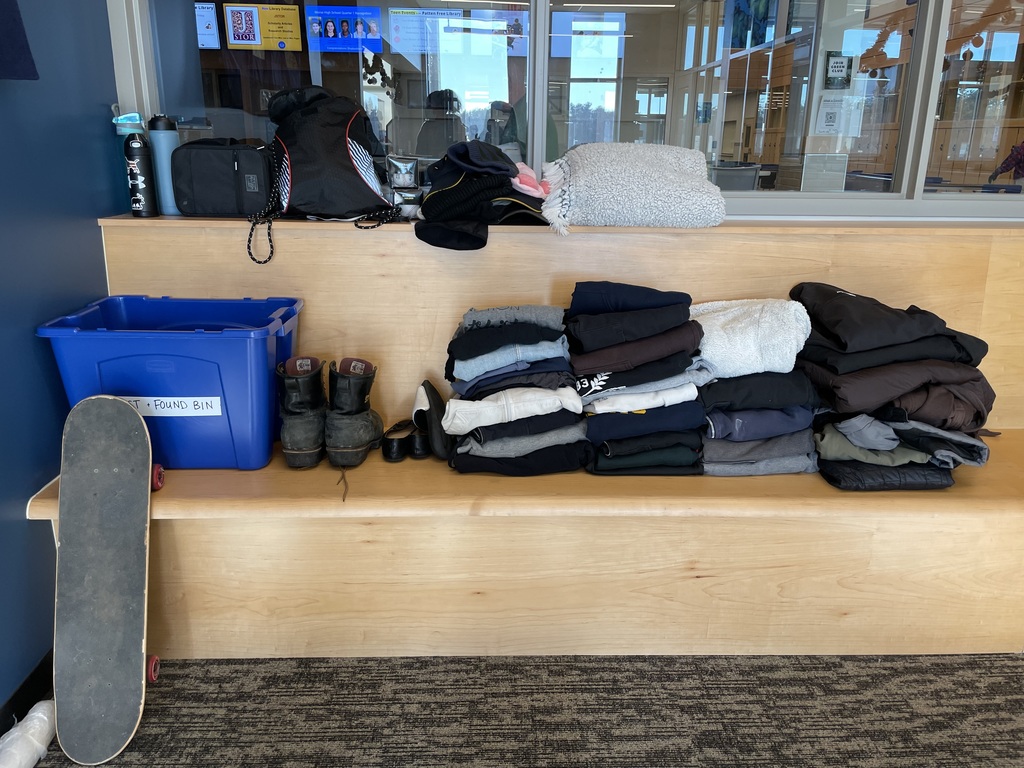 Are you in one (or more) of these clubs or activities? If so, please check the schedule attached for your yearbook photo!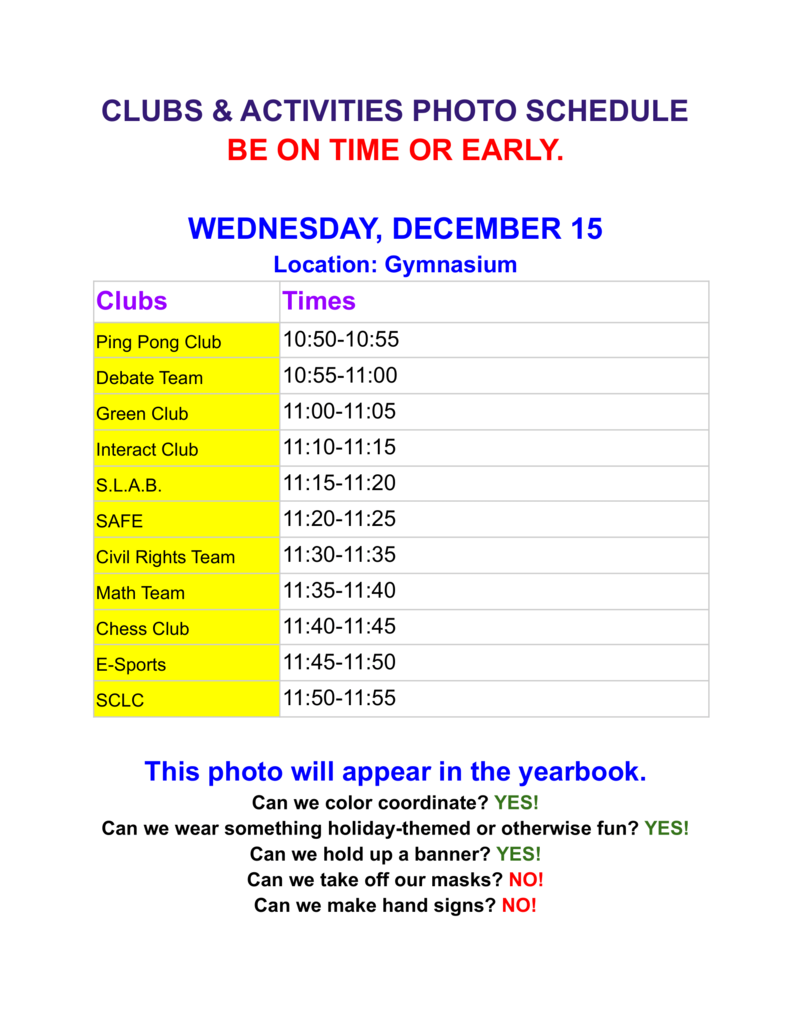 Access Health/Mid Coast Hospital has been working in our service area (Sagadahoc County, Brunswick and Harpswell) for 6 years promoting mental health awareness, offering trainings in schools (YMHFA, Sources of Strength, SEL etc) and offering a variety of support for substance prevention. Please see the attached flyer for more information on this free virtual training.

Welcome to the SOLD OUT MOHIBA weekend at Morse! We look forward to the return of an in-person MOHIBA in our beautiful new Montgomery Theater. Our students have worked incredibly hard to make the 92nd annual MOHIBA a special event for all. Due to increased numbers of positive COVID-19 cases in our communities and school, Morse has recently been placed in "outbreak" status by the Maine CDC. Given this news, it is understandable that many people will not feel comfortable attending a live event. We encourage anyone who has reserved a ticket, and no longer would like to attend, to stay home and watch the performance on the RSU 1 YouTube channel at a later date. We will provide specifics on how to access this recording and when it will be available on the Morse website (mhs.rsu1.org). Please email Lauren Leeman-Hook,
lleeman-hook@rsu1.org
if you no longer wish to attend this in-person event. I ask that everyone who chooses to attend MOHIBA this weekend practice extra precautions, including the following: ➡ Everyone must wear a properly-fitting face covering at all times while inside Morse High School. Any non-compliant individuals will be asked to leave. ➡ Please arrive about 30 minutes before the show begins; ushers will be showing your party to your seat. We ask that you exercise patience with our volunteer ushers. ➡ We ask that everyone practice social distancing during the event. Please remain in your given seat during the show, unless you need to use the restroom. Congregation should only occur outside. ➡ Please do not bring outside food or drink into the Montgomery Theater. Our collective efforts to follow these precautions will allow us to honor our students' preparation and hard work while keeping this a safe event to attend. Thank you, Eric Varney Principal

Sophomores! Ever thought about spending a semester at Chewonki? This Wednesday, Nov 17th during 1st lunch in room 107, there is a presentation about Chewonki's Maine Coast Semester. Hope to see you there!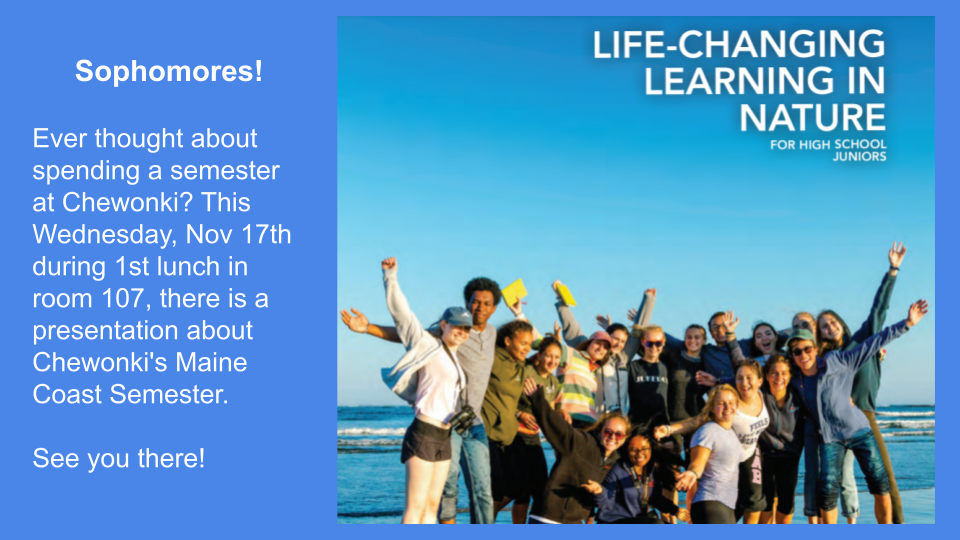 The 92nd Annual MoHiBa "Hello, 826" premieres this week! November 19 & 20! 🎭➡️ You must reserve your seat in advance in order to attend. ➡️ Please limit yourself to 1 showing. ➡️ Masks and social distancing is required. ➡️ Suggested donation: $10 adults, $5 children ➡️ Please arrived 15-30 mins prior to the show to be ushered to your seats. RESERVE YOUR SEATS NOW:
https://bit.ly/MoHiBa2021

Attention all families: Please take this 5 minute survey from The Barbara Bush Children's Hospital. Even if you completed the survey last year, we need your participation again! Everyone who completes the survey will be entered into a prize drawing and five lucky winners across the state will each receive a $100 Amazon gift card for their personal use AND if you win, our school will receive $1,000. Other schools are participating, so the more families from our school who complete the survey, the greater our chance of winning $1,000! Contact information for the prize drawing will be collected at the end of the survey and will not be connected to your survey responses. All survey responses are anonymous. Click the following link to begin the survey:
https://www.surveymonkey.com/r/2021FamilySCHSagadahoc
Thank you for considering!

The Story of 826 High Street is now available to watch on YouTube! This documentary is the unique cinematic story of Morse High School's community and traditions at 826 High Street as the students and staff transition to a new school location in 2021. WATCH IT NOW:
https://youtu.be/7s_VDTkg-rg


Mr. O'Leary invites the entire RSU1 community to William Shakespeare's Hamlet, Wednesday through Friday, October 27th through the 29th. Wednesday's performance is at 3pm, and Thursday and Friday's performances are at 6pm. Tickets are $10 for adults and $5 for students and senior citizens. We are performing outdoors, right in front of the new Morse High School. This is NOT your grandmother's Hamlet! Come one: come all! The show is only 75 minutes without intermission. We will see you in the theatre, outdoors, in less than two weeks!

Attention Morse Students: This Friday, 10/15/21, is the last day to drop a year-long or first-semester course without a record of the course posting to your transcript. Any dropped course after 10/15 will post as a withdrawal pass (WP) or a withdrawal fail (WF).
Since we do not have school on next Friday or Monday, we need to make the following adjustment to the schedule in order to avoid a full week without having some classes: Tuesday, October 12 will follow a Friday class schedule, rather than the normal Tuesday schedule. Thank you!

Spirit Week Rally games!

MORSE & BATH TECH OPEN HOUSE! Thursday, September 30th from 5-7 PM. Student Services will also be hosting a post-secondary informational session at 6 PM in the auditorium.
Spirit Week starts on 9/27! New this year -- each class will be building a float on Monday and Tuesday! Please see COVID-19 procedures and protocols in the case of a positive case following the Homecoming dance in the news feed, screens at school, and Brightspace.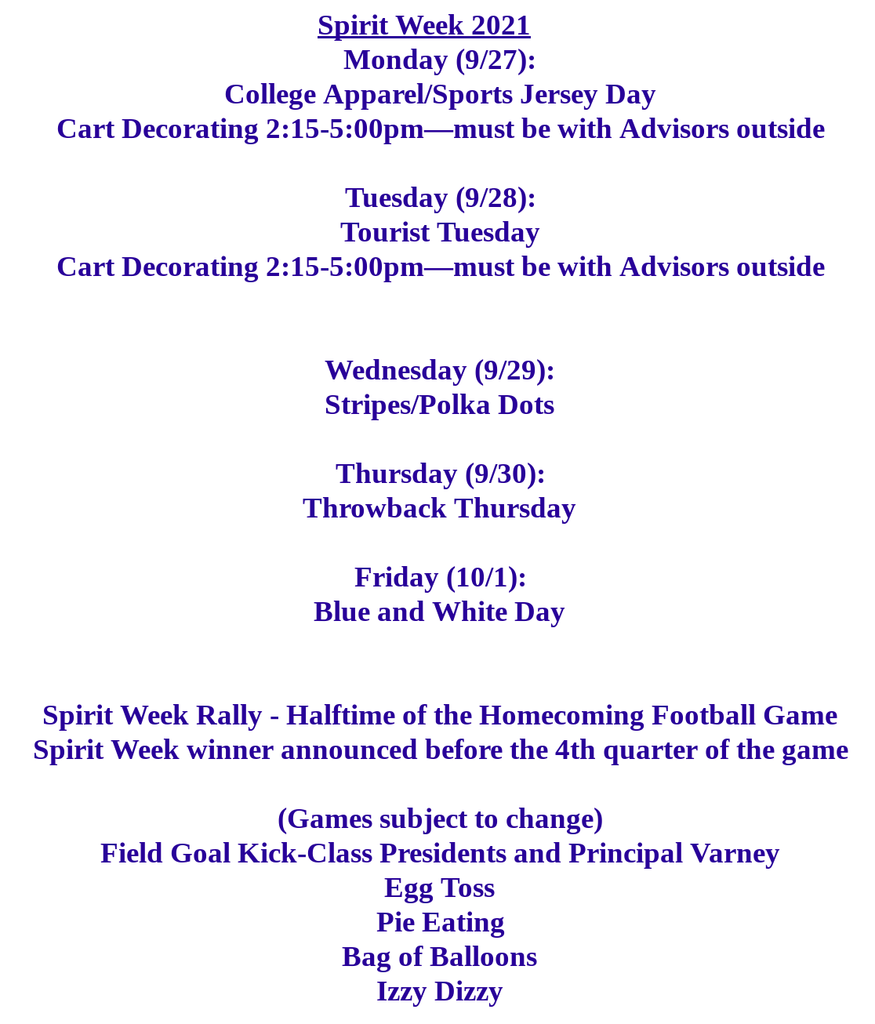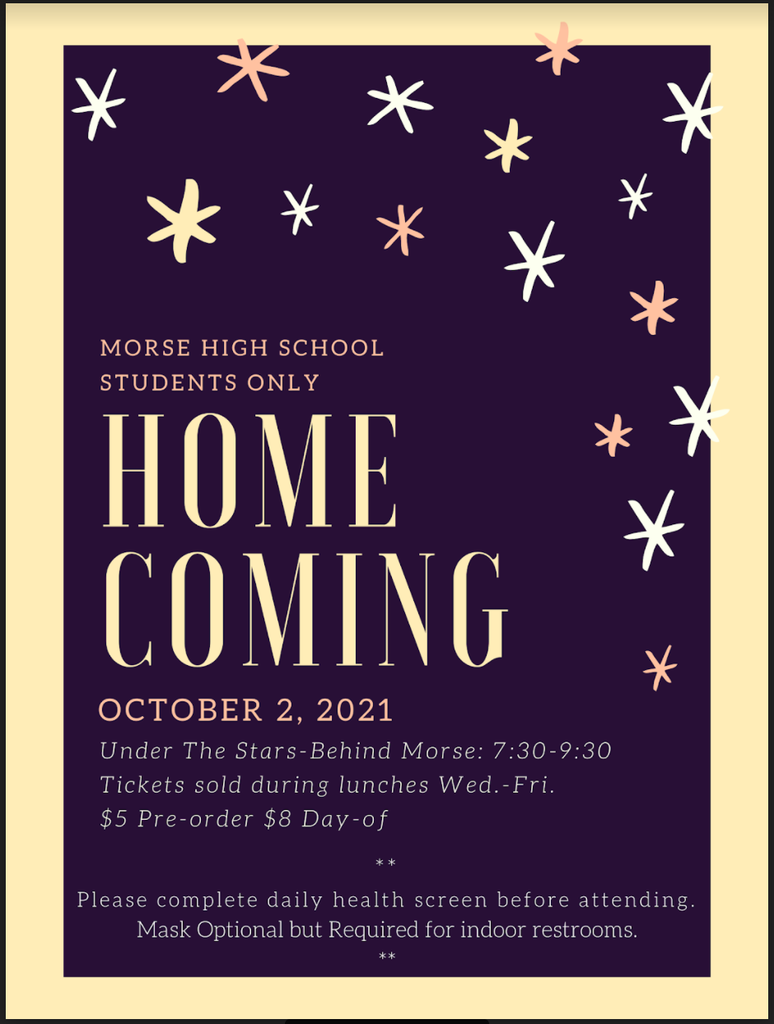 Order your 2022 Morse High Yearbook by 10/29/2021 to receive a $10 savings! Now $40! Go to jostensyearbooks.com to place your order or students may go to room 140 with cash or check made payable to Morse High School.
The Morse and Bath Tech open house has moved from this Thursday to Thursday, 9/30, from 5:00 - 7:00 PM. Likewise, the class of 2022 post-secondary planning information session has been moved to Thursday, 9/30, at 6:00 in the Montgomery Theater. COVID protocols will be in place for both events, including mandatory masking, social distancing, and room capacities.