Order your 2022 Morse High Yearbook by 10/29/2021 to receive a $10 savings! Now $40! Go to jostensyearbooks.com to place your order or students may go to room 140 with cash or check made payable to Morse High School.
The Morse and Bath Tech open house has moved from this Thursday to Thursday, 9/30, from 5:00 - 7:00 PM. Likewise, the class of 2022 post-secondary planning information session has been moved to Thursday, 9/30, at 6:00 in the Montgomery Theater. COVID protocols will be in place for both events, including mandatory masking, social distancing, and room capacities.

The Woolwich early morning bus #20 route has been updated. Please see the bus schedule for more up to date information on bus stop locations and times for this route.
https://5il.co/xb8t
The Bath YMCA is hiring, please see the attached image!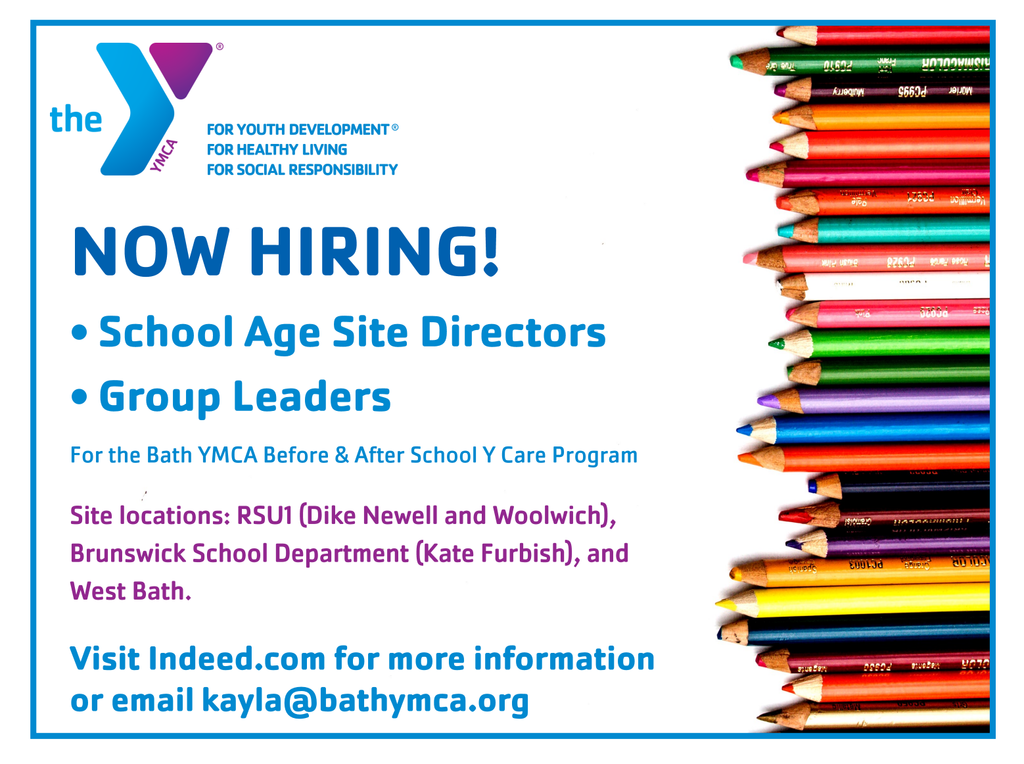 We need your help! Even though all meals are at no charge, our District benefits immensely from the data that is gathered from the Free & Reduced Meals Applications. We are asking that all families in RSU1 please complete the Free and Reduced Meals Application for the 2021-22 school year. As always, the information we receive is confidential. Based upon the information we receive in these applications, RSU1 can qualify for the following: Title I Funding (extra federal funds for districts that qualify) After-school Program Funding Special Education Funding Much more – things like grants, debt forgiveness, etc. If we don't receive these applications from families, some of the programming at your child's school could be negatively impacted. You can fill out the paper application or complete the application online by going to:
https://www.nlappscloud.com/
and searching for "RSU1" under Maine Schools. Thank you for helping us continue to receive this important funding by completing the Free & Reduced Meals Application! If you have any questions, please contact: Tim Harkins Food Service Director, RSU1 (207) 443 6601 ex.114
tharkins@rsu1.org
Please join us for the SET FOR SUCCESS event on Saturday, August 28th from 10am to 2pm at the New Morse High School (826 Shipbuilder Drive in Bath) gymnasium! We hope to see you there! For more information on Set for Success, visit:
https://www.midcoastyouth.org/set-for-success/
If your Morse student has not been vaccinated against COVID-19, now is an excellent time to complete this before school starts in September. Students who receive their first dose by August 13, will receive their second dose by the time school begins in September. Students who are fully vaccinated (14 days after their second dose), will not need to quarantine and miss school if they are a close contact of COVID-19. Mid Coast Hospital Walk-In Clinic is currently offering free COVID-19 vaccines Monday - Friday 4-7 p.m. They are located at 22 Station Avenue, Brunswick, ME 04011. No appointment is required and the clinic is open to everyone of all ages. Pfizer vaccine is available for those 12 years of age and older and Johnson & Johnson's Janssen vaccine is available for those 18 years of age and older. If your student has already received the COVID-19 vaccine, please be sure to share a copy or picture of the vaccine card with their school nurse. Woolwich Central School
rsherwood@rsu1.org
Bath Middle School
dhixon@rsu1.org
Morse High School/Bath Tech
kbarter@rsu1.org
The Morse weight room will be open over the summer! Attached is a schedule of the hours and it will be open to all students. The front doors to the building will open 5 minutes prior to when the weight room opens and will lock when the weight room closes. Masks must be worn at all times while indoors.
826 Yard Sale! June 18 & 19, from 8 AM - 2 PM. Morse High School Class of 2022 and Bath Tech SkillsUSA Students will be hosting a yard sale featuring many of the items that remain in the old Morse High School and Bath Tech. People attending the yard sale will be able tour many parts of the old school and purchase items of interest by donation. Due to the COVID-19 Pandemic, these students have had limited opportunity to fundraise for their groups. Let's support them with gracious donations while yard-saling and saying goodbye to the Old Morse High School and Bath Tech building.
Good afternoon, Morse and Bath Tech had two unexpected fire alarms today. Neither of these alarms was due to actual emergencies but rather issues with our new system. The Bath Fire Department did respond to the school in order to assure that the building was safe for students and staff to reenter. Thank you, Principal Varney.
🥍⚾️🥎🎾🏃🏻‍♂️SPRING SPORTS ARE BACK!!! Check out the Spring Sports video! 🎬 Made by the talented KillerFerns Productions (Isaac Ensel):
https://youtu.be/og3VTSj2Dio
Seniors and Parents, check out our website for graduation information! We will update the site with info as it becomes available. 2021 Graduation Information:
https://bit.ly/2S7o0WF
🎓💙🤍🎓
The world premiere of senior Katie Card's one-act play "Dear Childhood" will be held next Wednesday, Thursday and Friday, May 5th, 6th and 7th at 2 PM outdoors in the library courtyard. Admission is free, but cash donations will be greatly appreciated. All audiences MUST be masked at all times, and all audiences MUST bring their own lawn chairs. Rain dates will be announced soon. Running time for the play is 55 minutes. Fun fact: Katie Card is Morse High School's 20th consecutive student playwright, a tradition dating back to 2002!
Great news - The Morse Green Club is a finalist in EcoMaine's Upcycling challenge! Please consider voting for Morse's project at this link:
https://bit.ly/2QlrrrM
. Go Morse Green Club! ♻️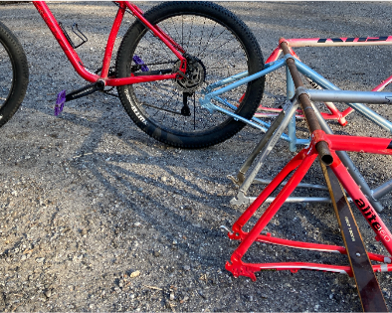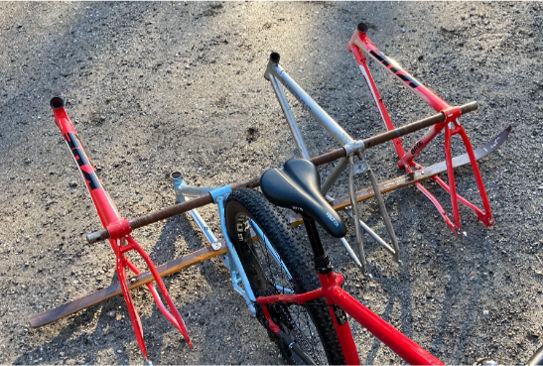 Good morning Morse community, as we enter this temporary shutdown to in-person learning at Morse, I want to remind all students and parents that Morse classes are being held at their regularly scheduled times. Students should log into Brightspace to access the link to the virtual class and the assignments. Attendance will be taken. If you are unable to access the internet during class time, please reach out to your teacher. Anyone who would like school lunch during the shutdown can come to Morse and get a bagged lunch for pickup. Just come to the front door and we will bring one out for you. Pickup times are from 10:00 to 1:00 daily. Lunches are free of charge. Thank you, Eric Varney, Principal