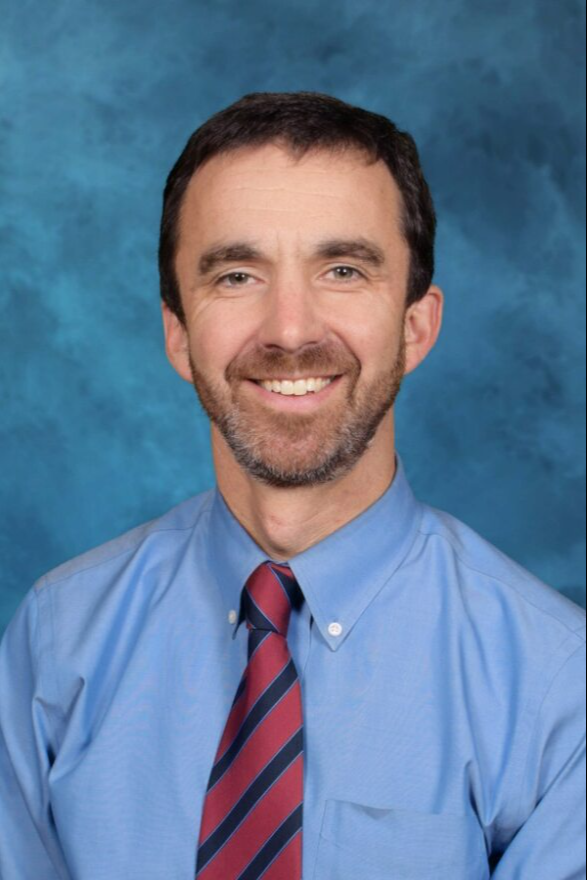 August 2023
Welcome to the 2023-24 school year! We are just days away from welcoming our newest class, the class of 2027, to Morse for their first day of school and we are excited for them to start their high school journey. A new school year offers a special opportunity for all students to have a fresh start and a chance to refocus on their goals for high school and the next steps in their life. I am always amazed at what students are able to accomplish in their four years at Morse, accomplishments that set the stage for their next stage of life; the days before school start are a great time for families to discuss these goals and what they want this school year to look like.
I am hopeful that the information in this quarter's edition of the Navigator is useful to you and your family as we get the 2023-24 school year underway.
Start Days and Schedule:
The first day of school is Tuesday, September 5th for grade 9 students only. As in previous years, we reserve the first day of school to orient our incoming ninth grade students to high school. Upon entering Morse for the first time, students will be assisted in finding their advisory room, where they will receive a fresh copy of their class schedule. Students will spend most of the day in their Advisory groups, where they will learn their class schedule, become familiar with the building, procedures, and traditions that make Morse a special place to go to school. Ninth-grade students will also attend all of their classes for about 15 minutes, where they will meet their teachers, receive a list of needed supplies, and start reviewing course expectations. The intention of this day is to give the Class of 2026 a little more knowledge and confidence before they attend school with all grades present. Students should bring something to write with and something to write on, as well as their school-issued Chromebook (if they attended an RSU1 school in previous years).
The first day of school is Wednesday, September 6th for all students, grades 9-12.
Please remember that this is a late start Wednesday; school starts at 8:40 AM. Students will report directly to their advisory, where they will receive a fresh copy of their daily schedule and other important information. Students can also access their schedule now through Infinite Campus (ic.rsu1.org). This first day of school will also include a full-school assembly and a modified schedule, where students will attend all of their classes for an abbreviated period.
Open House:
Morse and Bath Tech will host an open house on the evening of September 27th from 5:30 - 6:30 PM. The Morse Student Services Team will also host a post-secondary planning session for senior students and families in the Montgomery Theater from 6:00 - 7:00 PM. All students and family members are welcome to join us for our open house, see the school and briefly meet teachers. We hope to see you on September 27th!
Bus Transportation:
RSU 1 contracts with First Student to provide free transportation between school and home for all students residing in an RSU 1 community (Bath, Woolwich, Arrowsic, Phippsburg) who would like to take advantage of this opportunity. First Student can be reached at 207-707-4856. The communities of Georgetown and West Bath contract with Bath Bus Service to provide the same services. Bath Bus Service can be reached at 207-504-2196
Daily Bell Schedule:
Morse will run the same daily class schedule as we did last year, with some slight changes surrounding our lunch times. An image of the schedule is below. This schedule will be explained in classes and Advisory on the first day of school. Students who attend a Bath Tech program will have a slightly modified schedule that will also be explained on the first day of school.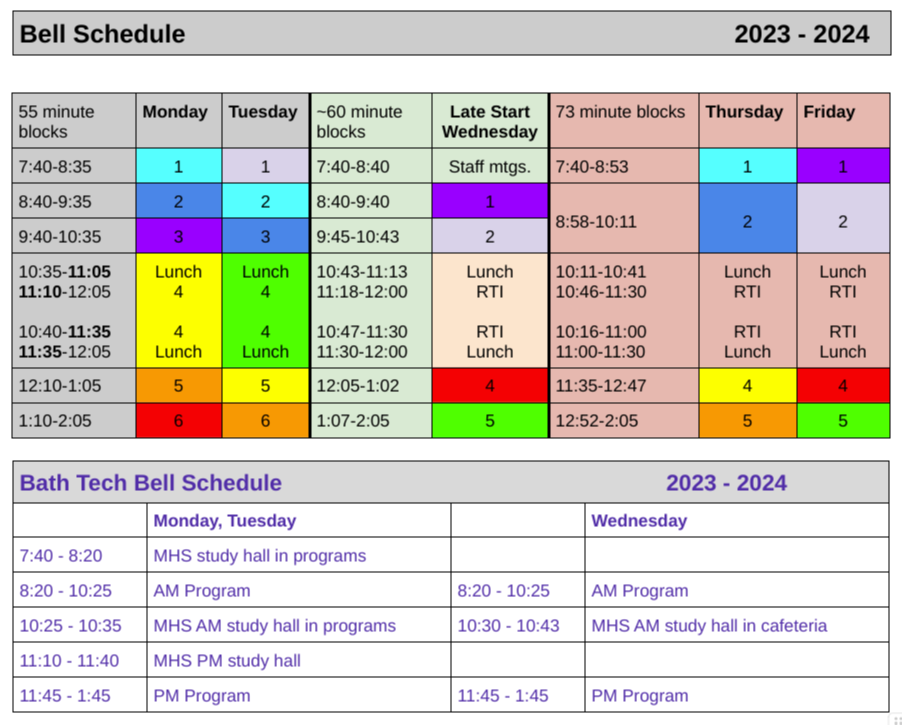 Builder Block (RTI):
Morse holds an academic intervention period in the middle of the day on Wednesday, Thursday, and Friday that we call Builder Block. Teachers will request for students to attend their builder block during the period that is marked "RTI" on their schedule. This will show on students' daily schedule on Infinite Campus. Students will have the opportunity to request to see teachers during Builder Block as well on Tuesdays. Students will be trained /reminded of how this works in their Advisory groups on 9/6 and teachers will help students request teachers for Builder Blocks on Thursday and Friday of the first week of school.
Lunch & Breakfast:
Students eat breakfast and lunch in the first-floor student commons. Lunch occurs during their 4th-period class on Monday and Tuesday. Those teachers will inform the class whether they go to lunch during the first or second lunch period. Lunch occurs opposite from builder block on Wednesday, Thursday, and Friday, which is listed on their schedule. This will also be reviewed in Advisory sessions on the first days of school.
We are thankful that all students can eat lunch & breakfast in the cafeteria for free again this school year. The free lunch and breakfast applies to full meals only; there will be a-la-carte items that will be for sale in the cafeteria as well. Please contact the food service director, Melissa Cole, for more information: mcole@rsu1.org.
In addition to the efforts of the Morse kitchen, we also have our very own food and supplies pantry located in the library. Students are always welcome to stop-by the food pantry for a snack, take-home meals, and personal hygiene supplies.
School Supplies:
Please make sure that your student brings their school-issued Chromebook, fully charged, to school daily, starting on the first day of school. If they have used their personal device in past years, please have them bring that device. If your student is new to RSU1 schools, we will be issuing a Chromebook to them on the first days of school. Individual teachers will give supply lists to students on the first day of school. If your family is having issues purchasing school supplies, we have a large quantity of school supplies for students in the Morse library that are free for anyone to take, no questions asked.
Stay informed on your student's progress:
Morse will continue to distribute information through Infinite Campus, Brightspace, and our website. It is very important that we have the most updated contact information for your family in our system. Please contact Mrs. Levasseur at 443-8250 ext 1 or hlevasseur@rsu1.org if your contact information needs to be updated. Also, please make sure that you have Infinite Campus, the Morse Website, and Brightspace bookmarked on your computer and/or have downloaded the Apps on your phone. This will give you more information about your student's attendance and grades than you ever thought you ever should know! If you do not have an active Infinite Campus Account, please contact Lynn Rouillard-Hill at 443-8250 ext 3 & 1 or lrouillard-hill@rsu1.org.
Illness:
If a student or staff member has a fever, chills, sore throat, cough, muscle or body aches, shortness of breath, difficulty breathing, nausea or vomiting, diarrhea, or new loss of taste or smell, please stay home and call Nurse Barter at 207-443-8250 ext 2, or email her at kbarter@rsu1.org, for further guidance. If a student or staff member tests positive for COVID-19, Nurse Barter will communicate the requirements around returning to school and masking on days 6-10. Mask wearing is still a personal choice for each individual who is not testing positive for COVID-19 and students and staff will honor this choice with respect.
Student Parking:
All students who would like to park in the student parking lot are required to register for a parking permit with Mrs. Levasseur, hlevasseur@rsu1.org 443-8250 - ext 1, in the main office at Morse. Students will need to show their license, return a completed parking contract signed by a parent, and pay $10 to cover the cost of the permit. Parking permits will be issued to seniors first; remaining parking spots will be given to underclassmen as available. If a student does not receive a parking permit at the school, they may park at the tennis courts parking lot at the McMann Field Complex.
Open Campus Privileges:
The open campus privileges will continue for qualified grade 12 students only this school year. Grade 12 students have already received a separate email from Mrs. Levasseur, hlevasseur@rsu1.org 443-8250 - ext 1, who is the contact person for open privileges. Students are also welcome to come see Mrs. Levasseur in the main office for the required paperwork. There are a few important reminders about senior open privileges:
Parent permission is required for an open period and/or for open lunch to occur.

Open lunch and first and second periods do not have a grade requirement, just parent permission

Seniors who have no D's or F's on the previous quarter's report card may have opens during any period of the day with parent permission.

Students must sign out and back in on the clipboard near the door to the main office each time they leave for a senior open privilege.

Open privileges can be revoked at any time by administration or parents for attendance issues or other concerns.
New Faculty and Staff:
In addition to the members of the class of 2027, we are also welcoming a few new and talented faculty and staff members to Morse this school year:
Andrew Pelletier, Athletic Director

Cameron Bishop, Dean of Students

Matthew D'Angelo, Mathematics Teacher

Aurora Hodgkins, Education Technician
The Morse Faculty and Staff are so excited to welcome our students to a new school year. See you soon!

Eric J. Varney
Principal
Morse High School