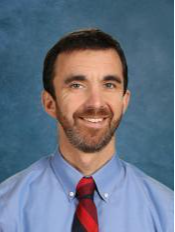 April 2023
Have you driven past the McMann Field Complex in the past two weeks? If so, you will know that spring has sprung at Morse High School, as the fields are full of spring athletes even before we see the first buds on the trees. April vacation is underway, giving students and staff a well-deserved break before making the final big push of the school year. It is hard to believe that we have just over eight weeks of instruction left in the school year. This is a busy and exciting time of the year, especially for the Class of 2023.
The buzz and excitement of success is still present in the wake of a hugely successful spring musical a week ago. Sarah Coleman and Sandy Foreman lead their wildly-talented cast and crew in The Addams Family Musical, which was a production to remember. I think it is safe to say that the students' commitment and hard work did pay off. This production also took a considerable amount or resources, including: 1800 linear feet lumber, 14 sheets of plywood, 35 lbs of screws, 10 gallons of paint, 36 hours of set construction & painting, 6 containers of clown white foundation, 3 bald caps, 142 costume pieces including 27 pairs of shoes, 83 props & furniture pieces, 307 pages of music, 10 wireless body mics, 140 batteries, 165 light sound and projector cues, a cast and crew of 39 and more than 125 hours of scheduled rehearsal for 2 performances for 1200 audience members. I could not be more proud of the cast and crew of this production; and am so curious as to what they will perform next year!
Last week's STEM City event was also fantastic and so well attended. Although billed as a target audience of grade 8 and below, it really was fun for all ages. Several Morse classes and clubs held tables to demonstrate their learning, including: The Science of Cooking class, Vertebrate Zoology class, Forensic Science class, Robotics Independent Study, Morse's Bee Club, AP Seminar, and more. A special thanks goes out to Monica Wright and Karen DeSilva for organizing this event. I am hopeful that this will be the spark that continues this as an annual event at Morse. We'd love your feedback before thinking about a future STEM City event. Please take a few moments to share your ideas on this anonymous survey: STEM City Feedback form
Morse hosted our annual RSU 1 Jazz night this past Wednesday night. Morse and BMS students put on a wonderful night with performances from both jazz bands, both choral groups, as well as the Morse Rock Ensemble and Musical Theater group. Once again, these groups brought down the house and it was fantastic to have live music in the Montgomery Theater. The Morse music groups are continuing to prepare for our spring concert in May and a special Rock Ensemble concert in the Library Park.
Morse Esports and Unified both had another successful season between the winter and spring athletic seasons. Esports finished their spring regular season ranked 5th in the state.
As mentioned at the opening, spring athletics are underway, with the first couple of weeks of practice and pre-season play behind us. Regular season play begins in earnest over the vacation week. Although it is difficult to judge a season based on the pre-season, we have already seen some promising games: Girls lacrosse is 8-2 this preseason, while baseball went 4-0, and softball is undefeated as of this report. Go Shipbuilders!
Did you hear that we have opened a School Based Health Center at Morse? The new health center is a partnership with Lincoln Health and allows us to provide expanded healthcare services through an on-site Nurse Practitioner (NP) and Licensed Clinical Social Worker (LCSW). These services may include:
Treatment of acute, chronic, and injury-related health conditions

Well-child checks

Immunizations

Behavioral health treatment

Reproductive health

Oral health
The Morse faculty continue to work through our accreditation process with the New England Association of Schools and Colleges (NEASC). This month we completed and submitted our school growth plan that we are using to address the priority areas of growth, which were identified in our self-study and during last year's collaborative conference with the visiting team. We will be using this growth plan over the next year and will showcase our accomplishments at the decennial visit next spring.
We are still working on Morse's Vision of a Graduate, which remains in draft form at this time. We are currently collecting feedback from Morse families. If you have not yet offered your feedback please feel free to use this link.
While students and staff are making progress through our current curriculum, the student services and administrative teams have begun to build next year's schedule. This process started a couple of months ago with teacher recommendations, student requests, new course proposals, 8th grade parent meetings, and current student meetings with school counselors. Now that we know what students would like to take, we work to make a master schedule that will accommodate the greatest number of requests, while abiding by other parameters. This process will continue until June.
Morse AP students will begin taking their exams during the month of May. AP teachers report that students are making good progress in their preparation for these exams. The AP Capstone students have already begun their presentations and culminating activities for the year. May is a busy and stressful month for AP students, but most of the hard work is behind them and it is almost time to show their skills and knowledge on their exams.
The Class of 2023 continues to finalize their post-secondary plans and meet with their school counselors for their senior meetings. The Morse Class of 2023 is a fantastic group of individuals. We are sad to see them go, but excited to see what they will accomplish in the next chapter of their lives. There are many details around graduation and all that leads-up to this important milestone; please read more details and important dates on the Class of 2023 website. If you are a parent of a senior, please make sure to encourage them to complete the senior plan by May 3. Morse is absolutely blessed with significant support from our alumni and other Morse friends and we are fortunate to award significant scholarship money annually to our graduating seniors. The senior plan form is very important in our scholarship award process.
Are you wondering when the current school year ends? In short, the last day of the school year will be Thursday, June 22nd, which will be a half day for students. The final exam schedule begins on Friday, June 16th.
The next several weeks will be busy and exciting for Morse students. It is very important that students (and parents/guardians) continue to monitor their grades through the spring; sometimes students' motivation starts to wane and they need our support to finish on a high note.
Sincerely,

Eric J. Varney
Principal
Morse High School