Media Contact: Lindsey Goudreau, Marketing Communications Specialist (207) 443-8330 | lgoudreau@cityofbath.com
Bath, ME (May 20, 2021) - On May 10, Jostens, the leading producer of yearbooks and student-created content, announced that Morse High School's yearbook program has received the Jostens 2021 National Yearbook Program of Excellence award at the Silver Level. The National Yearbook Program of Excellence recognizes engaging yearbooks that reflect a broad representation of the student body while helping students develop 21st century skills such a communication, collaboration, and information and communication technologies (ICT) literacy.
The MHS award-winning yearbook program is led by junior editors-in-chief Olivia Cunningham, Fionna Cashman, Lily Clifford, Isabel Strelneck, and Caroline Skroski under the direction of Johnna Stanton, MHS yearbook advisor.
"I couldn't be more proud of this yearbook staff," said Stanton. "During a year when many schools across the country folded up shop (understandably), this small but mighty staff of 20 created a book that was twenty pages longer than the previous years'. The grit, determination, positive attitude, and teamwork on this staff is simply unparalleled. Can't wait to see what next year brings."
Yearbook staff went out of their way to collect more pictures and cover more events than usual. Stanton said they used the pandemic as an opportunity to create more content instead of an excuse to do less. "COVID Starter Pack" pages showcased students safely prepared to return to school, and "COVID Summer Bubble" pages showed students finding ways to interact with their friends.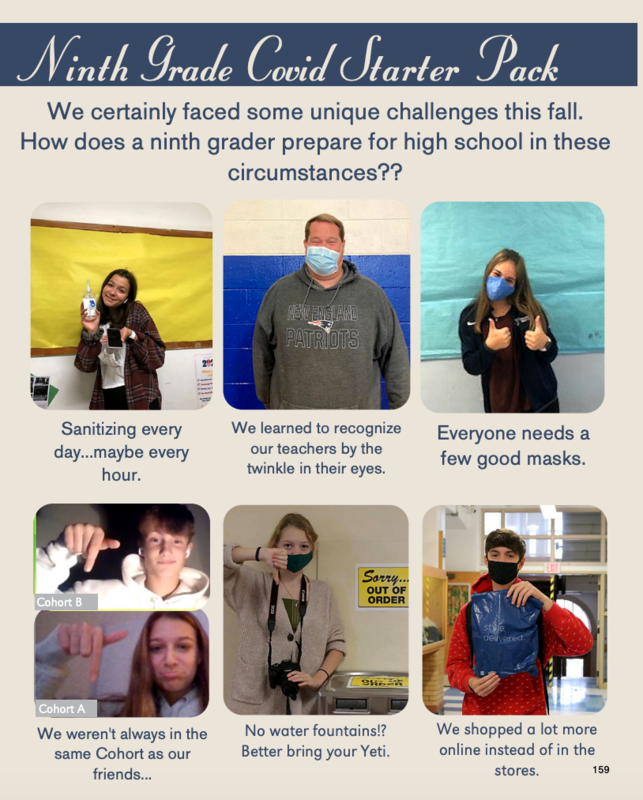 "It's really awesome [that we received this award]," said sophomore Sophia Kovacs. "We're such a small school, so this is something to be proud of."

---
Photo: L-R, front row: Tommy Ferolano (soph); Lucy Mercer (soph); Brook Kulis (SR); Althea Rogenes (senior; cover designer); Elena Trundy (ninth) L-R, back row: Johnna Stanton (adviser); Silas Green (ninth); Isaac Ensel (JR); Lily Clifford (JR and editor in chief); Sophia Kovacs (soph); Liam Scanlon (SR); Eliza Marco (ninth) Missing: Editors in chief and JRs--Fionna Cashman, Olivia Clifford, Caroline Skroski; Avery Smith (SR); Elliot Harkins (JR); Ivan Wolff (SR); Kassidy Hart (JR); Nizzy DeLoge (ninth)
###