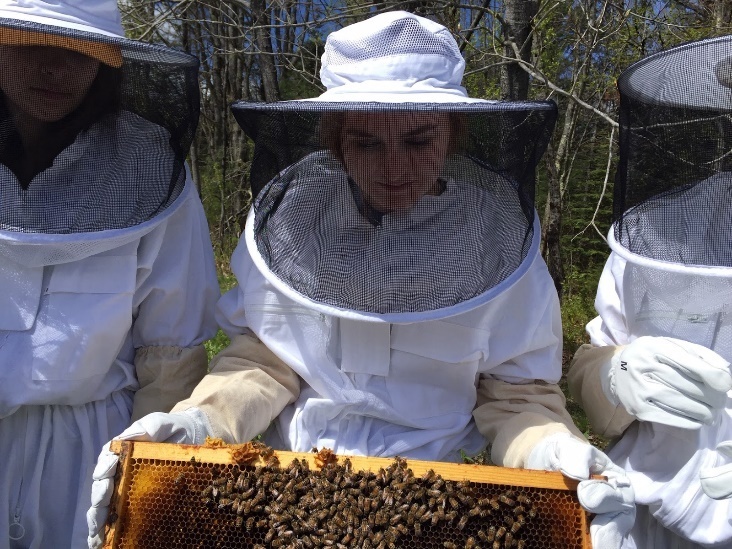 Berlin City Auto Group Awards $1,800 to "Bee Therapy" at Morse High School
Lauren Leeman-Hook
Wednesday, January 22, 2020
For Immediate Release: January 21, 2020
Media Contact: Lindsey Goudreau at 207-443-8330 or lgoudreau@cityofbath.com
Bath, ME (January 21, 2020) – On Tuesday, January 14, Biology Teacher Carolyn Nichols of Morse High School was awarded an $1,800 grant from Berlin City Auto Group's Drive for Education grant program. The funds will go toward a unique program that Nichols launched in her Advanced Placement (AP) Biology class last year: Honey Bees in the Classroom, or, as her students eventually dubbed it, "Bee Therapy."
Nichols was inspired to incorporate bees into her curriculum after attending the Maine State Beekeepers Association Annual Conference in 2018, where she watched seven first-grade girls dressed in bee suits share a book they wrote on beekeeping.
The students, who were from Georgetown Central Elementary School, were learning about bees under the tutelage of Doug Calhoun, a founding member of the Waldo County Beekeepers, who helped the school launch their first beekeeping program. Nichols waste no time reaching out to the school and went to work correlating all aspects of honey bees into her classroom curriculum.
"That Monday morning (after the conference), I brought in frames filled with honey and my AP Biology class learned how to extract honey," said Nichols.
Nichols' class took field trips to visit the hives at Georgetown Central Elementary School and Nichols' private apiary. Elsa Bertlesman, who took the class her senior year at Morse and described herself as afraid of bees since the age of 7, called the experience "irreplaceable."
"It's one thing to learn about bee anatomy in the classroom, to read in a textbook about their social hierarchies and communication methods, but to see it in action in a safe and fun setting is another," she said. "I'll never forget the taste of beekeeping I had that day. It was one of those experiences I feel so lucky to have had."
This time last year Berlin City Auto Group awarded Nichols with $1,000 through the same grant program to help the school purchase eight beekeeper suits. With this year's grant she will be able to purchase another fourteen suits; nearly enough to outfit the entire class.
The importance of the honey bee has been well-publicized in recent years in the wake of their rapid population decline. Speculations about dire crop management and production problems have sprung up in the news as the survival of this well-known pollinator becomes threatened. Although the foremost purpose of Nichols' program is to teach students concepts about biology, the experience is sure to help them develop compassion for this complex insect as well. Already Nichols' civically minded students are brainstorming ways to build a landscape around the new high school which is friendly to pollinator species.
"We approached administration to see if we could collaborate with the landscape architects concerning the use native species (around the new high school). As a result, we are actively collaborating with administration, Sagadahoc County Beekeepers Association, grant providers, Bath City Arborist, Morse Alumni Association, Rotary Club of Bath, Wild Seed Project, Bath Garden Club, Maine Maritime Museum (who recently renovated their gardens and planted native species), horticulturists, and architects (to plan pollinator-friendly landscaping)," Nichols said.
Bertlesman hopes the program grows at the new school. "The upcoming new school provides a world of opportunity for new programs and change," she said. "I know Bee Therapy 2.0 would be the perfect addition."
Forty-six schools in Maine, New Hampshire, and Vermont received grants this year from Berlin City Auto Group's Drive for Education Program, representing a total grant donation of $83,845. The program, now in its tenth year, uses proceeds from area car sales to fund the grants. Learn More: https://www.berlincity.com/blogs/1246/berlin-city-auto-group-awards-46-local-schools-donation-drive-education-program/
Photo credit: Carolyn Nichols. Photo features Elsa Bertlesman.